Update from Soeung in Cambodia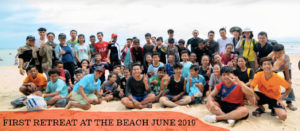 45 people raise their hands and accepted Jesus as their Savior!
The Bridges Church in San Jose, California, sent six of their people to help create a week of computer camp at ECS school. Fifty-five students from our soccer club and from ECS school came to the camp which was themed Creator. The camp was about 4 hours outside Phnom Penh, surrounded by the Gulf of Thailand and mountains. When we visited the ocean, it was almost everyone's first time seeing and playing in the ocean. It was a huge blessing. Most of them had heard of Jesus many times before, but at camp it was different. They said that they could feel Him everywhere and that His presence was everywhere. They could tell that His love was surrounding them. They understood Him and felt His love.
Th

e Holy Spirit worked in their hearts through times of worship, through testimonies and through a skit. Especially when we separated into six smaller groups using questions to ask about their understanding of Jesus. We could really feel the movement of the Lord by seeing how they responded to the questions they were asked. Phealin's mother and her three children came along with us. It was her first time hearing the full gospel of God. She had so many good questions such as, "How come Jesus died on the cross?", "Why didn't the Father in Heaven help Him when he was suffering on the cross?" and "Who did Jesus die for?". She got all the answers and she was eager to know more.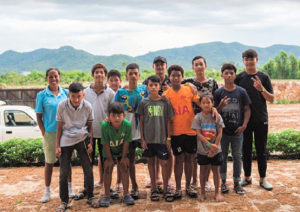 Worship Service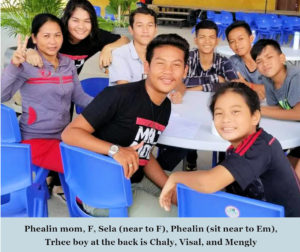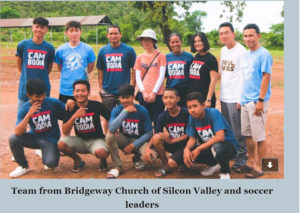 Now we're rolling up our sleeves to get to work on discipling so many!
For those babies in Christ, we are planning to meet with them every week, worshipping, praising and separating into small groups. We will train our six current youth leaders about good guiding questions first before they lead their groups with the same questions. The leaders themselves have learned so much from the camp. They were already very good leaders, but the experience has helped them to be even more humble about learning from their mistakes, being willing to take good care of the others, and being a good example.
English and Computer camp at ECS School
We praise God that Computer and English camp went so well at ECS school. The students were blessed by learning new skills from the team. There were also some teachers who were willing to join the training too. On the last day, it was very emotional for the team and the students. The students hope that the Bridgesway Church of Silicon Valley team will be able to come visit the school again in the future. The team donated some computers to the school so the students could continue practicing their skills. Praise the Lord for providing everything we needed.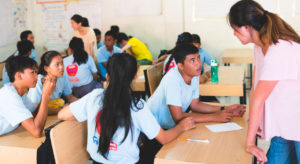 English Class
Computer Graphics Design Class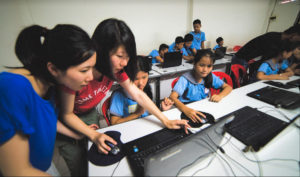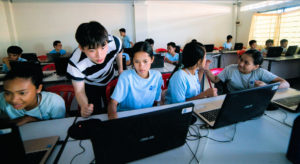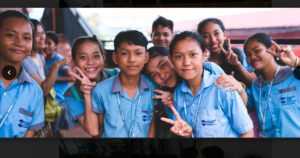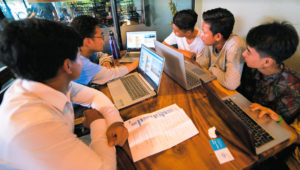 Visiting team from Bridgeway Church of Silicon Valley with ECS Principal and Vice Principal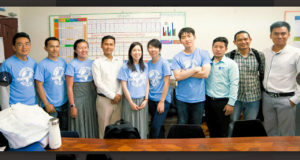 Please pray that the Lord will continue to bless those babies in Christ and protect them from temptation and bad things. And pray that every time that we meet, the words from the Lord will have great impact in each of the students' lives, and that Jesus will be Sopheak's and my wisdom.