DAVID AND KIRSTEN RICKMAN
MISSIONARIES in JERUSALEM
Dear family and friends,
We pray this letter finds you well and are so excited to update you on the past few months since our big transition to Jerusalem. God has been so kind and gracious to us throughout all the newness we've been encountering and we're so grateful for the gift of being able to reside in His land during this season. What's Been Happening? Shortly after our arrival in Israel, David began back-to-back Biblical Hebrew and Modern Hebrew summer intensive courses at the university. These courses have lived up to their titles as "intensives," each cramming over a year's worth of material into six to eight-week formats. Despite the significant challenges, these classes have also been deeply rewarding to be able to begin to read and interact with the Hebrew text in the Bible as well as the spoken language of those around us. By God's grace, David did well in these courses, which set him up to continue on to working through intermediate levels throughout the rest of the school year. Also, there have been some unforeseen shifts in the program offerings at the school, which led to David switching his major to Jewish Studies. This will allow more flexibility in course selections but also much of the same study focus in the Bible and ancient Judaism will remain. Through the intensity of the courses and all the changes with the school, the Lord used the content of the Biblical Hebrew final exam as a form of encouragement. The assignment was to translate Genesis 24, a chapter that the Lord used significantly to edify us when we were betrothed and married. The Lord graciously uses the little things to move our hearts and cause us to remember how He's led us in the past. Kirsten has been tirelessly dedicated to making life work for us in this transition – from navigating the busses and where to get groceries, to organizing our amazing apartment, and cooking meals. Even when David's schedule has, at times, demanded an eat-sleep-study routine, she's joyfully stepped in to help keep all things afloat. After over a year of the intensive labor in post-production on our film, and releasing it this past July, Kirsten's been taking some well-deserved rest from the daily grind of editing.
Coming Up David's autumn semester is about to commence (Nov-Feb), and Kirsten will be beginning a modern Hebrew course at a language school near our apartment. We pray that our work in language will come to bear fruit in being more conversational with those around us for the witness of the gospel. We've had the opportunity to make a few connections with our neighbors and other individuals in the area and hope to further cultivate these relationships.
As many of you know, in July we released our film, Enduring Witness: Scripture, Story, and the Restoration of Israel. We've had some encouraging feedback from those who have watched it from many different regions and are so thankful to the Lord for giving us the grace and stamina to complete this project. Since July, it has been translated into Romanian by our dear friends there, as well as into Portuguese to edify communities of disciples in Brazil. If you haven't already, check out our film (at enduringwitness.com). We'd love to hear your feedback and discuss any questions or thoughts that arise from watching the content. Also, if you'd like to read about some of the backstory of making it, you can do so here as well.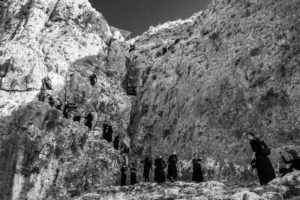 On a hike at the mountains of Qumran near the Dead Sea.
Please keep us in your prayers as we start a new and full schedule this autumn. Pray for us to have clarity of mind, grace to learn, and for continued endurance and perspective as we navigate life in this foreign context. Also, please pray for the relationships we have made and for open doors for further connections for us to give witness of the gospel here. We are so grateful for how you have continued to encourage and run with us on this journey. We pray the Lord would richly bless you and that His Spirit would strengthen your hearts to be steadfast in the hope of the gospel. with love, David & Kirsten